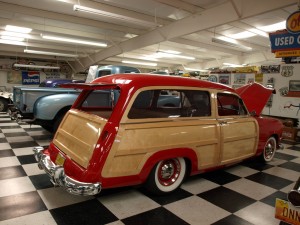 There are a number of types of vehicles that need to be completely safe during shipping or cannot afford to add the hundreds or thousands of miles to the odometer during the course of a long distance drive. And, for those who don't own their own hauler flatbed or other vehicle shipment method, you will likely want to use an enclosed car transport service to get the vehicle to wherever you need it to be. When you order auto hauling services for any of the types of vehicles below, make sure to let your vehicle carrier know and they will ensure that it is taken care of properly.
Need Antique Auto Transport?
Call Us at (800) 624-7656 for your Instant Quote!
Antique
Antique cars are those that are part of the first generations of automobile manufacturing. The most recognizable of antique cars is the Ford Model T, which was produced between 1908 and 1927. However, some Model Ts aren't quite antique yet since the generally accepted definition of an antique vehicle in the United States, as told by the Classic Car Club of America, is any auto over 100 years old. Those between 50 and 99 are considered pre-antique cars.
Classic
Classic cars are older vehicles that are between 30 and 49 years old. The Classic Car Club of America further defines a classic car as one that is a "fine" or "distinctive" automobile and will likely have performance-enhancing modifications or are comprised completely of original parts.
Restored
The main reason you will want to inform the auto transport company that the vehicle is a restoration (or restoration project) is because of the chance that the auto might not start when it's time to load or deliver it. This is especially true if you occasionally have issues with car as the carrier will need to use specialized equipment for picking up or unloading it if it doesn't start.
Luxury and High-End Vehicles
Whether the vehicle is considered a luxury auto like Mercedes and Rolls Royce or it's a top-tier commercial sports car like McLaren or Ferrari, you should relocate it with an enclosed carrier to avoid any kind of damage. Likewise, you will have better peace of mind with an enclosed automobile transportation service since people won't be able to see your investment traveling down the road.
Racers
Though many professional racing teams have their own auto hauling trucks, smaller teams might need to be at more than one event on a specific day and will need to hire an experienced carrier to have it delivered reliably.
If the Car Doesn't Start or Run
Often with antique, classic, and restored vehicles, they might not run every time they need to. If this is the case with your vehicle or it just doesn't start whatsoever, you must inform the carrier of this issue so he or she can bring the special equipment needed to haul a non-operational car, truck, SUV, van, or motorcycle.
Need To Ship A Classic Car?
Call Us at (800) 624-7656 for your Instant Quote!
More About Antique Auto Transport By Cam: G+
Taking Care During Shipping : read