In honor of Veterans Day, the troops who have protected and served our country, and the families and citizens that support them, we have put together a few statistics and pictures of what we consider to be the ultimate and the extreme in the vehicle transport world, compliments of the U.S. Military.
First, we have a relatively simplistic transport of a military tank on board a flatbed transporter. Normal vehicle transport flatbeds can handle anywhere from 10,000 to 30,000 pounds, which equates to about 6 SUVs or 8-10 full-sized sedans. This specially designed flatbed has been modified to accomodate a single tank which can weight anywhere from 30,000 to 60,000 pounds (this one probably weighs in around the 45,000 pound mark). A flatbed can get anywhere between 6 and 15 miles per gallon on deisel, but a fully loaded setup like this definitely is on the low end of that range!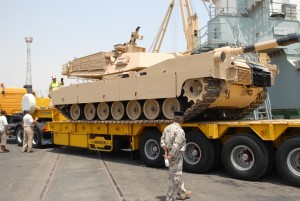 Next, we have the aircraft carrier (USS Enterprise is pictured). The Nimitz-class aircraft carrier is over 3 football fields in length and displaces 100,000 long tons (1 long ton = 1 metric ton = 10% more than a traditional ton = 2,240lbs) of water. The ship can achieve a mind-boggling speed of 30knots, which is faster than most ski boats. The cargo load of an aircraft carrier of this size is approximately as follows: 12–14 F/A-18F Super Hornets as strike fighters; two squadrons of 10–12 F/A-18C Hornets, with one of these often provided by the U.S. Marine Corps (VMFA), also as strike fighters; 4–6 EA-6B Prowlers for electronic warfare; 4–6 E-2C Hawkeyes used for airborne early warning; C-2 Greyhounds used for logistics and a Helicopter Antisubmarine Squadron of 6–8 SH-60F & HH-60H Seahawks. Aircraft that have previously operated from Nimitz-class carriers include F-14 Tomcats, S-3 Vikings, A-7 Corsair II and A-6E Intruder aircraft. For those of you who are counting, that adds up to about 65 aircraft! Amazing.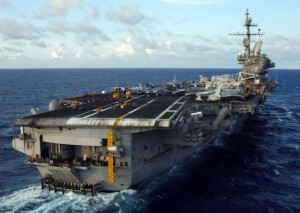 Finally, we have the physics defying C-5 Galaxy, engineered by Lockheed Martin.
"The C-5 Galaxy is specifically designed to transport all types of military fighting equipment and associated personnel. The entire spectrum of military inventory, anything and everything that the Army ever intended to be airlifted — rolling and tracked armored equipment (including main battle tanks), bridge launchers, helicopters, bulk cargo, troops, etc. — can be transported swiftly and efficiently aboard the C-5. inflight refueling capability gives the aircraft nearly unlimited range and increases its flexibility for troop and cargo delivery.

In the airdrop arena, the C-5 Galaxy is capable of delivering up to 60,000 pounds (27,216kg) of equipment per drop. Standard airdrop operations include the following types of hardware: Hummers, Bradleys, tanks, road graters and Howitzers. The C-5's aerial-delivery system is compatible with airdrop platforms of 8, 12, 16, 20, 24, 28 and 32 feet in length. Most personnel drops consist of 73 combat-ready troops.
In 1984, a re-winged C-5A flew at a then world record gross weight of 920,836 pounds (417,684kg) after being air refueled. Less than five years later, a C-5B set a new airdrop record of 190,493 (86,406kg) pounds. The drop, consisting of four 42,000 pound (19,051kg) Sheridan tanks and 73 combat-ready troops, occurred over Fort Bragg, North Carolina on 7 June 1989. The C-5 Galaxy also holds the "unofficial" world record for the heaviest drop over a single zone … two 60,000 pound (27,216kg) platforms.
The most dramatic display of the Galaxy's capability and value was during operations Desert Shield and Desert Storm. Galaxies comprised only 12 percent of the combined airlift fleet, yet they carried 44 percent of all airlift cargo and flew 23 percent of all strategic airlift missions. Ninety percent of Air Force C-5s were used in Desert Shield/Storm, the rest were flying high-priority missions elsewhere around the world.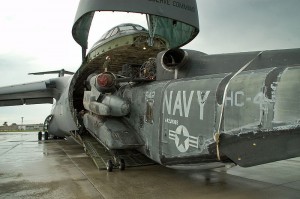 Overall, the strategic airlift to the Persian Gulf was the largest since World War II. By the cease-fire, Air Force airlifters had moved 482,000 passengers and 513,000 tons of cargo. Viewed in ton miles, the airlift of Operation Desert Shield/Storm was equivalent to repeating the Berlin Airlift, a 56-week operation, every six weeks."
(C-5 statistics are compliments of http://www.theaviationzone.com/factsheets/c5.asp)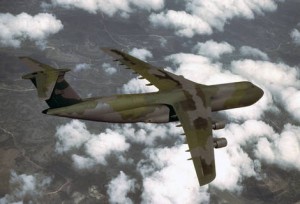 Now THAT is some vehicle transport! In full disclosure, we do not quote offer quotes for transporting tanks, planes, helicopters, industrial excavators, or most other military equipment. However, if you would like to get a quote for transporting a civilian vehicle, boat, or motorcycle, please visit our Car Shipping calculator!